At Our Lady's & St Mochua's we have been running our ROE Programme since 2011.  Each year we are presented with a different baby (and mum) who in his/her own way helps to develop Empathy in our children.
The roots of empathy mission is to build caring, peaceful and civil societies through the development of empathy in children and adults.  The children of today are the parents and citizens of tomorrow.
Roots of Empathy develops an understanding of diversity, respect, anti bullying and a focus on inclusion for everyone.  If we are able to foster these qualities in our children, we are certainly producing successful leaders for the future.
In our first year of the programme 2011-2012 it was amazing to watch the changes in the children.  They became kinder, more understanding and more aware of their own feelings and temperaments.  They really looked forward to the visits of their teacher (baby).  Since 2011 the children's desire, enthusiasm and energy for participation in the programme has spiralled and is viewed as a key experience of their lives at primary school.
Mary Nugent (ROE Co-ordinator)
Our first Roots of Empathy Baby was Lucia Murray 2011-12.
Lucia was our first Roots of Empathy Baby when our programme began in 2011-12.  She visited the children once every month with her mum, Noella.  During this time the children watched Lucia grow and discussed in detail her movements, sounds, interactions, and temperament.  This allowed the children to reflect on their own development and at the same time develop the skill of empathy.  Lucia is now in Primary 5 and is a much loved member of our school community.
Below is a copy of a recount written by Shay Beattie who was in Lucia's Class.  Lucia was the nine week old teacher and Shay was nine years old and in Primary 5.
Our second Roots of Empathy Baby was Antoin Farrell 12-13.
Antoin was our second Roots of Empathy Baby in the 2012-13 School Year.  Antoin visited each month with his Mum Bronagh.  This was a special year as Antoin's sister Aideen was in the class.  Aideen really enjoyed having her baby brother coming to visit.  Antoin is now in P5 and is in the same class as Lucia, our first Roots of Empathy Baby.  Antoin enjoys playing all sport with his favourite being Gaelic Football.
Our third Roots of Empathy Baby was Cara Conlon 2013-14.
Our fourth Roots of Empathy Baby was Sophia Hughes 2014-15.
Sophia was our fourth Roots of Empathy Baby.  Sophia and her mum Melissa became important members of Mrs McClelland's Primary 4 Class during 2014-2015 School Year.  Every month they watched Sophia grow and develop while reflecting on their own feelings and relationships.  Sophia is now in Primary 3.  She enjoys playing with her friends and Camogie.  She has two sisters called Mia and Enya.
Our fifth Roots of Empathy Baby was Sarah Christy 2015-16.
Our fifth Roots of Empathy Baby was Sarah Christy.  Sarah visited her class every month with her Mum Elaine.  This was a special year as Sarah's brother Michael was a pupil in the class.  He thoroughly enjoyed having his Mum and baby sister visit every month.  Sarah, is now in P2 and her big brother Michael is now in second year at St Patrick's High School.  However, she still has two brothers, Daniel and Jack, in Primary School.  Sarah likes to play with her friends and help her Dad walk the dogs.
At the end of five years of having Roots of Empathy in our school, Mr Meehan (Class Teacher) and Mrs Mary Nugent (Roots of Empathy Coordinator) organised a Special Acelebratory Assembly.  All of our Roots of Empathy Teachers and their Mums attended the special celebration.  Click on the link to watch the movie.
Our sixth Roots of Empathy Baby was Lorcan Anscombe 2016-17.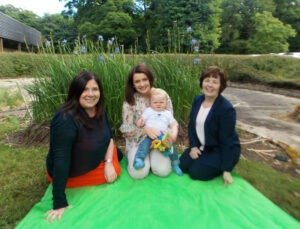 Lorcan was our sixth Roots of Empath Baby.  Lorcan was also a very special baby as his dad Nathan was in our first Primary 7 Class when our school opened in 2003.  Lorcan attended every month with his mum Jennifer.  The children loved watching him grow and develop over the year.  Lorcan is now in Primary 1 and loves playing with his friends and in the construction corner during structured play.  His big brother Oisin is in Primary 5.
Our seventh Roots of Empathy Baby was Aoibhinn Hourican 2017-18.
Aoibhinn was our seventh Roots of Empath Baby.  Aoibhinn is the youngest in her family and has one sister Caoimhe and three brothers, Philip, Patrick and Michael.  Aoibhinn visited our school every week with her mum Tracy.  Aoibhinn taught all the boys and girls the meaning of empathy and allowed them to develop their skills of building better relationships and solving problems.  Aoibhinn is starting Primary 1 in September 2021 and we are looking forward to welcoming her back to our school.
Our current Roots of Empathy Baby is Odhran Murphy 2019-21.